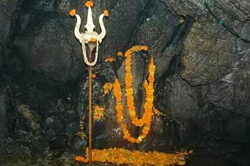 Earlier with the consent of local public and willingness of devotees of Shivkhori, Baba Rameshwar Giri was appointed as Mohatum (Manager) of Shivkhori Cave who was performing 'pooja' at the cave. On 31st May 1991, the right of Mohatum was withdrawn from Rameshwar Giri and 'Shri Mata Vaishno Devi Shrine Board Katra' (SMVDSB) was appointed as Mohatum in his place by order of Deputy Commissioner Udhampur vide no: - 535/SQ dated 31-05-1991 and mutation bearing number 803 dated 29-07-1991 attested by Tehsildar Reasi. Accordingly, the management and control of SSKSB and endowment came to the SMVDSB Katra since 1991. However, due to legal dispute between SMVDSB & Rameshwar Giri, SMVDSB could not establish effective control over the affairs of Shri Shivkhori Shrine. The take over of SSKSB was necessitated considering the poor state of things and providing of facilities to the pilgrims.
Ever since the takeover, the Shrine Board is continuously striving hard to develop high-level infrastructure and facilities for the visiting pilgrims to make the yatra a memorable and satisfying period. Due to the efforts of Shrine Board, the number of devotees visiting the holy Shrine has increased tremendously.
Shri Shivkhori Shrine Board has created various types of facilities like water supply, sanitation, electric supply and public conveniences etc for the Pilgrims. It has also employed persons for sanitation and management of Shrine area. It is also coordinating the efforts of various departments for creating yatra facilities.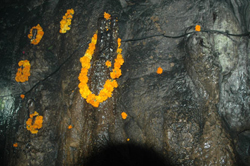 Constitution of Board
Shri Shiv Khori cave is situated nearly 4.0 kms from Ransoo the base camp of the shrine, located in District Reasi. The distinct feature of the cave is a 4 feet high naturally formed "Shivji Maharaj Lingam". Other natural deities, inscribed on the stones are also present inside the cave. These deities symbolize 33 crore deities of Hindu Pantheon. The road distance from Jammu to Ransoo-via Katra (Shri Mata Vaishno Devi) is 129 kms & via Akhnoor - Bhambla, it is 112 kms and 57 Kms from Distt. HQ Reasi.
Shri Shiv Khori Shrine Board, which was constituted in 2003 with Deputy Commissioner Udhampur (erstwhile Distt.) as Chairman & SDM Reasi as its Member Secretary. Subsequently on 11th February 2008, J&K State legislature passed an Act-namely "The Jammu & Kashmir Shri Shiv Khori Shrine Act"-2008 for better management, administration & governance of Shri Shiv Khori Shrine. The Act for Shri Shiv Khori Shrine came into force from 1st April 2010 vide SRO No. 132 dt. 25 March-2010 issued by Administrative Tourism Department, J&K Govt. The constitution of Board is as under:
1.
Divisional Commissioner Jammu-Chairman.

2.
Deputy Commissioner Reasi-Vice Chairman

3.
CEO
SMVDSB Katra-Member.
4.
Director
Tourism-Member.
5.
Executive Officer
Member Secretary.
6.
MLA concerned

Functioning of Board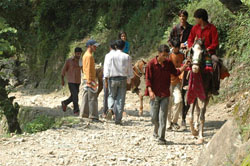 Shri Shivkhori Shrine Board has created various types of facilities like water supply, sanitation, electric supply and public conveniences etc for the Pilgrims. Following are the functions of the Board:-
Arrange for the proper performance of worship at Shrine.
Provide facilities for the proper performance of worship by the pilgrims.
Arrange for the safe custody of the funds, valuable security, jewellery & for the preservation of the funds of the Shrine.
Undertake the developmental activities concerning the areas of the Shrine & its surroundings out of the funds of the Shrine.
Make provision of medical relief for worshippers & pilgrims.
Do all such things as may be incidental & conducive to the efficient management, maintenance & administration of the Shrine & the Shrine Fund & convenience of the pilgrims.
Any dispute arising in violation to the said property or the Board shall be referred to the Arbitrator to be nominated by the Divisional Commissioner, Jammu
Future Projects of Board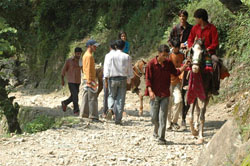 Protection work for newly constructed Exit Tunnel and decoration with murals
Augmentation of water Supply andAugmentation of Electricity Supply and proper arrangements for Back-up
Setting up of micro-Hydel projects
Construction of rain-shelters on track
Augmentation of medical facilities and purchase of Ambulances
Construction of Lake and water sports facilities.
Construction of dormitory accommodation at Ransoo /Bhawan.
Helicopter Service from Katra/ Jammu.
Development of Vatikas on track and around Bhawan
Rehabilitation of Gujjar Bakkerwal families from main shrine area
Fencing of Shrine Board land and massive forestation
Cable Car from Ransoo to Bhawan
Eco friendly disposal of mule dung
Online facilities for pilgrims
Meditation centre inside the cave area.