The Shiv Khori Shrine, purely dedicated to the Lord Shiva, is situated on a hillock in Ransoo village of Tehsil Reasi of the Udhampur District in Jammu region of the Jammu & Kashmir state. Buses and light vehicles go upto village Ransoo, surrounded by lush green mountains. Pilgrims have to traverse about 3 kms track from Ransoo by foot which is being constructed by the Shri Shiv Khori Shrine Development Board. The Road Distance of Village Ransoo from major cities of Jammu is given as under:
| | |
| --- | --- |
| Road Distance | |
| City | Distance |
| Jammu (via Katra) | 130 KMS |
| Jammu (via Akhnoor) | 110 KMS |
| Udhampur | 120 KMS |
| Katra | 80 KMS |
| Reasi | 50 KMS |
In order to visit the Holy Shrine of Shivkhori one has to reach village Ransoo. The viallge Ransoo is connected via Road with Jammu, the winter capital of the State Jammu & Kashmir. Jammu city is well connected with the rest of Country via Air, Rail & Road.
BY AIR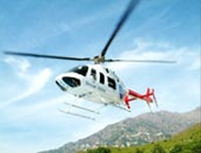 The nearest Airport to reach Shivkhori is located at a distance of 140 KMS in the Jammu City, the winter capital of the Jammu and Kashmir State. Indian Airlines, Jet Airways, Deccan Aviation, Air Sahara and Spicejet operate daily flights for Jammu.
Click here for Flight schedule
BY TRAIN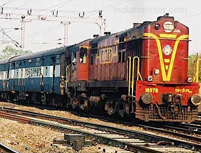 You can also reach either Jammu or Udhampur by Train. Jammu is well connected to other parts of country through railways. A number of trains all over India are available from Jammu. Railway also runs special Trains during summer and other holidays for comfort of yatries. However the Train is expected to reach Katra by 2007 and hence it will reduce the road distance to be covered by the yatries to reach Shivkhori.
Click here for Schedule of Trains
BY ROAD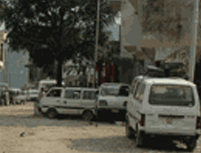 The village Ransoo is located on the Reasi-Rajouri Road and is well connected with Katra and other cities of Jammu & Kashmir State. Katra is the Nearest Tourist Hub and is famous for the Holy Shrine of Shr Mata Vaishno Devi. Regular Bus Services from all major cities of Northen India are available for Katra and Jammu. Many Volvos buses and other deluxe buses of J&KSRTC as well as other private are available from various parts of Northern India.
Click here for Distance of Major Cities
The Taxies and other Light vehicles are available from Katra, Udhampur and Jammu. JKTDC also runs Tourist cabs/van/Tempo Traveler to Shivkhori from Jammu/Katra on demand basis.
Stay at Shiv Khori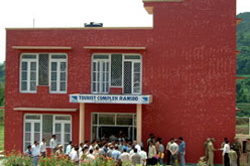 With the increasing pilgrims, the Jammu & Kashmir Tourism Development Corporation has constructed a Tourist Reception Center-cum-Sarai at Ransoo, the Base Camp of the Holy Shrine of Shiv Khori. In addition to this number of Private Hotles and Guest Houses are also available at Ransoo for comfortable stay of the pilgrims.
However lot number of good Hotels are available the Katra.
Do's and Don'ts for the Pilgrims
DO'S
Do respect promote religious sentiments among other Yatries.
Respect ancient customs while at Shivkhori.
Do wear clean clothes before you enter the cave.
Do putt off your leather items like belt, purse, shoes etc before entering into cave & deposit with cloak room.
Do observe silence inside the cave & chant Om Namha Shivaye.
Do deposit your donations in the donation boxes only.
Do obtain receipt after donating at donation counters.
Do maintain sanity & purity of the cave as per religious sentiments.
Do contact Member Secretary/Manager SSKSB for information & next plans of SSKSB.
Do hire pony, pithoo, palki, horse & guide only from prepaid counters meant for the purpose, maintained by SSKSB.
Do send your suggestions through E-mail-sdmreasi@jk.nic.in or shivkhori@yahoo.co.in.
Do contact on phone numbers-01991-244123, 01991-262068 for any help or complains.
Do deposit your luggage/belongings at cloak room near cave maintained by SSKSB.
DONT'S
Don't eat non-vegetarian food in the Shrine area.
Don't consume liquor or other intoxicants in the Shrine area.
Don't rush in for darshan, but move in a queue for the darshan.
Don't encourage beggars. Begging is prohibited.
Don't try to create any type o nuisance inside the cave or Shrine area.
Don't carry any type of weapon inside the cave.
Don't sleep inside the Holy cave.
Don't commit any violence or harshness in the Shrine area.
Don't quarrel inside the Holy cave. Don't sit with your back facing the sanctum sanctorum.
Don't evacuate, urine or motion or spit in cave premises.
Don't through any waste on the track but it in the dust bins.
Don't harm any creature in the Shrine area.
Don't destroy plants & other green trees.
Don't use tobacco & any other drugs.
Don't harm trees & other vegetation around the track.
Don't spoil water.
Don't negotiate directly with Pony Pithoo owners for hiring Pony, Pithoo, Palki, guide or horse.
Don't carry mobile, camera, laptop & any other electronic items inside the cave. These articles are not permissible due to security reasons.
Don't carry coconut inside the cave.
Don't carry any leather item inside the cave.